St. Croix Hospice Iowa Branches Pass State Infection Control and Emergency Preparedness Survey Deficiency-Free
[OAKDALE, MINN.] May 18, 2020 – St. Croix Hospice's Iowa branches have successfully passed the Iowa Department of Inspections and Appeals infection control and emergency preparedness survey with no deficiencies cited. Hospice agencies must meet rigorous safety requirements to pass the survey, which focused on COVID-19 readiness. Iowa branches surveyed included Ankeny, Cedar Falls, Cedar Rapids, Charles City, Council Bluffs, Panora, Spencer and Strawberry Point.
"Hospice and elderly patients are at greatest risk for serious illness or death from coronavirus symptoms," says Mandy Cogswell, RN, St. Croix Hospice Chief Clinical Officer. "This survey is another reason for our patients, their families, and our nursing home and assisted living partners to feel confident in our ability to safely provide care."
The state survey included a comprehensive review of emergency preparedness policies and procedures and a thorough assessment of infection control measures. Phone questionnaires to randomly selected staff collected information on personal protective equipment (PPE) requirements, daily self-screening for symptoms, social distancing practices and protocol for patients presumed positive. Surveyors also contacted randomly selected patients for feedback on staff PPE policies and quality of care during the pandemic.
St. Croix Hospice continues to serve existing patients and admit new patients both with and without COVID-19 symptoms. Appointments and admissions are available via telehealth or in person, and clinical staff can provide care for patients in private homes, skilled nursing facilities and assisted living facilities. St. Croix Hospice clinical staff wear full PPE (gloves, gown, facemask and eye shield) for all in-person visits.
"We are committed to providing uninterrupted hospice care for all patients who need us, whether because of COVID-19 complications or an unrelated, life-limiting illness," stresses Cogswell. "St. Croix Hospice has the safety protocols, resources and expert staff in place to provide high quality hospice services while preventing the spread of coronavirus."
St. Croix Hospice serves 79 of Iowa's 99 counties with nine branches statewide. It's ninth and newest Iowa branch, in Humboldt, had not yet opened at the time of the state survey. Infection control and emergency preparedness best practices in Iowa are followed by St. Croix Hospice branches agency-wide.
About St. Croix Hospice
St. Croix Hospice supports patients, families and caregivers when they need us the most, delivering exceptional hospice care 24 hours a day, 365 days a year wherever a patient calls home. With branches in Iowa, Kansas, Minnesota, Missouri, Nebraska and Wisconsin, St. Croix Hospice takes pride in round-the-clock availability, prompt response and same day admissions, including evenings, weekends and holidays. Contact St. Croix Hospice 24/7 at 855-278-2764 or stcroixhospice.com.
Continue Reading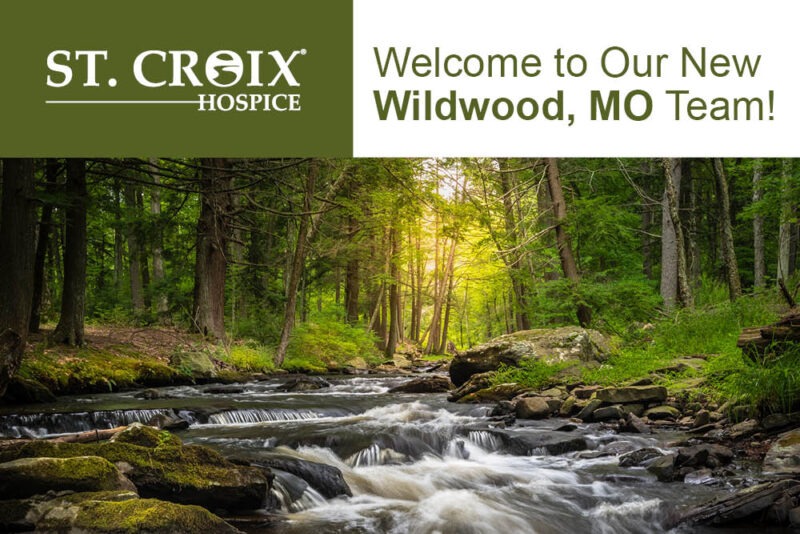 November 22, 2023
[WILDWOOD, MO] – Nov. 22, 2023 – St. Croix Hospice builds upon their existing end-of-life services in eastern...
Read More