Proactive Symptom Management
A diagnosis of dementia and its progressive symptoms affects the entire family. Through expert care and coordinated treatment, we provide a safe environment and improved quality of life for patients, families and caregivers.
The St. Croix Hospice Difference
St. Croix Hospice is focused solely on providing the best possible hospice care tailored to the personal needs and wishes of every patient. The North Star Dementia Program™:
Provides a Dementia Care Certified St. Croix Hospice care team
Offers patients, families and caregivers expert dementia tools and support
Enables families and caregivers to proactively manage dementia symptoms
Improves patient's quality of life with a focus on their best ability to function
Increases the safety of patients, families and caregivers
Decreases behavior escalation with non-pharmacological interventions
Reduces unnecessary ER visits and hospitalizations
Delivers care with respect, compassion and dignity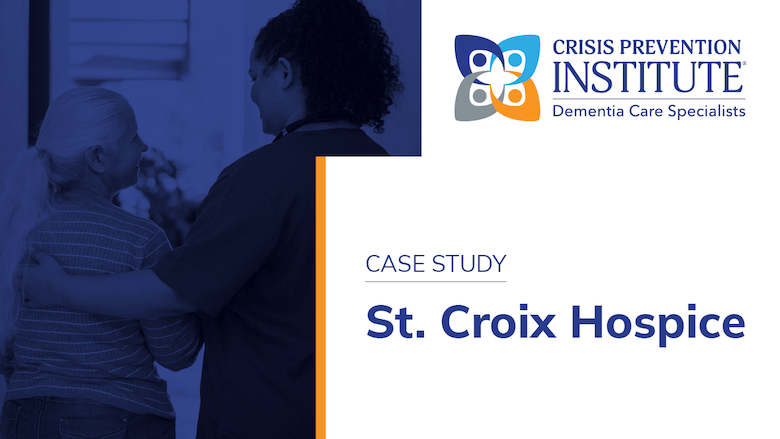 Crisis Prevention Institute Spotlights
St. Croix Hospice

The Crisis Prevention Institute (CPI) recently featured St. Croix Hospice in one of their educational campaigns showing the benefits of CPI training for healthcare professionals.
Learn more about how St. Croix Hospice puts CPI training to use and provides compassionate, expert-level care to dementia patients.
The North Star Dementia Program™ Team
St. Croix Hospice sets the bar in dementia care management by requiring Dementia Care Certification for all direct care staff. Our comprehensive care team includes:
Physicians

Registered Nurses

Hospice Aides

Social Workers

Music and Massage Therapists

Dieticians

Physical, Occupational & Speech Therapists

Chaplains