Included in our End-of-Life Planning Program
Be in control of your future and light the way for those you love. This program provides complimentary tools, information and training to help you plan for the future. Download these free materials, request printed copies from your local St. Croix Hospice contact, or sign up for our free course.
These tools are not legal documents. Be sure to consult with experts for specific information regarding your individual needs.
Advance Care Planning
Advance Care Planning is a crucial process that involves making decisions regarding the medical care you desire to receive in the event that you become unable to communicate your preferences. During these times, doctors and family members play a pivotal role in making decisions on your behalf. This Advance Care Planning Guide helps you navigate thoughtful discussions with your loved ones about your end-of-life wishes, and it provides information to help you determine the medical treatments and interventions you may or may not prefer in your final days. By initiating these conversations and expressing your wishes, you ensure that your values, beliefs and preferences are respected and honored even when you are unable to voice them yourself.
Using Advance Care Planning:
Minimizes the use of aggressive treatments and hospitalizations
Enhances the likelihood of receiving healthcare aligned with your personal wishes
Reduces anxiety and stress for family members and loved ones
Facilitates improved access to desired services, including palliative and hospice care throughout all stages of life
Advance Care Planning Guide PDF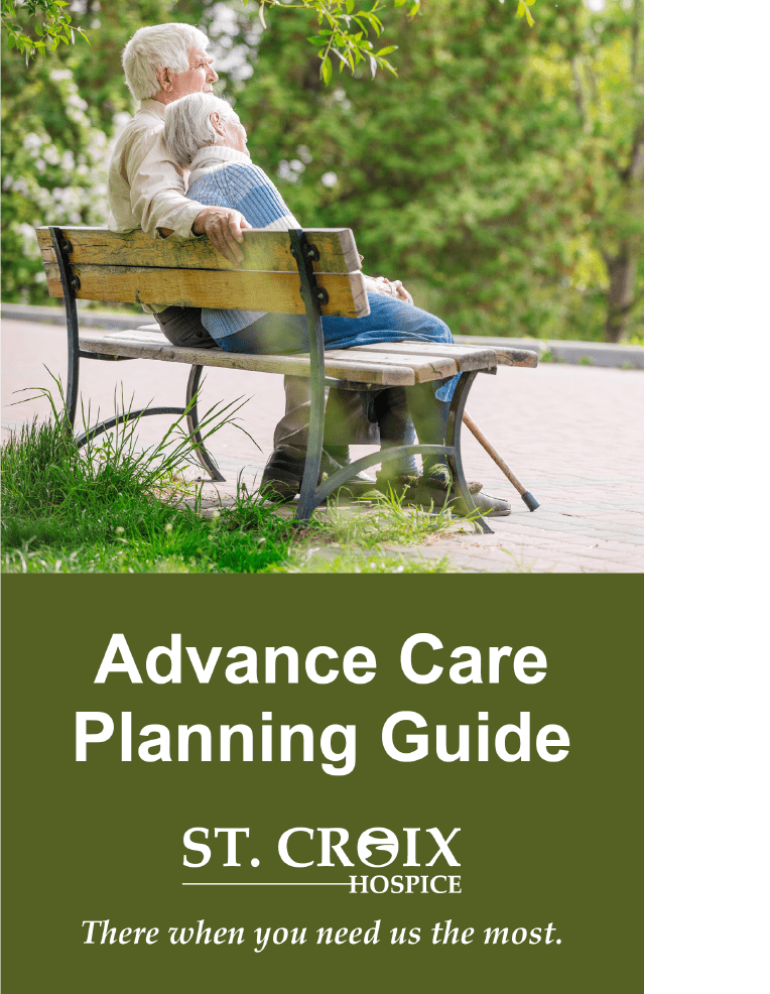 Checklist for When I Am Gone
This Checklist includes the most important information a person needs to share with their loved ones who will handle their affairs after they are gone. Many families may think they have all the information they need, but in reality, it can be hard to remember everything and once someone passes away it may be difficult or impossible to find. The booklet can be carried easily with someone to help them remember information they still need to gather.
Take a moment to review the list and mark any information you have already shared or that doesn't apply to you. Make sure to share any missing information with the individuals you have designated to handle your affairs in the future.
We understand that it can be challenging to recall all the important details that others will need to know about but this checklist will help facilitate the process of gathering that information, making it easier for both you and your loved ones.
The Checklist for When I Am Gone:
Helps individuals stay organized and prepared
Provides clear communication
Reduces stress and anxiety for loved ones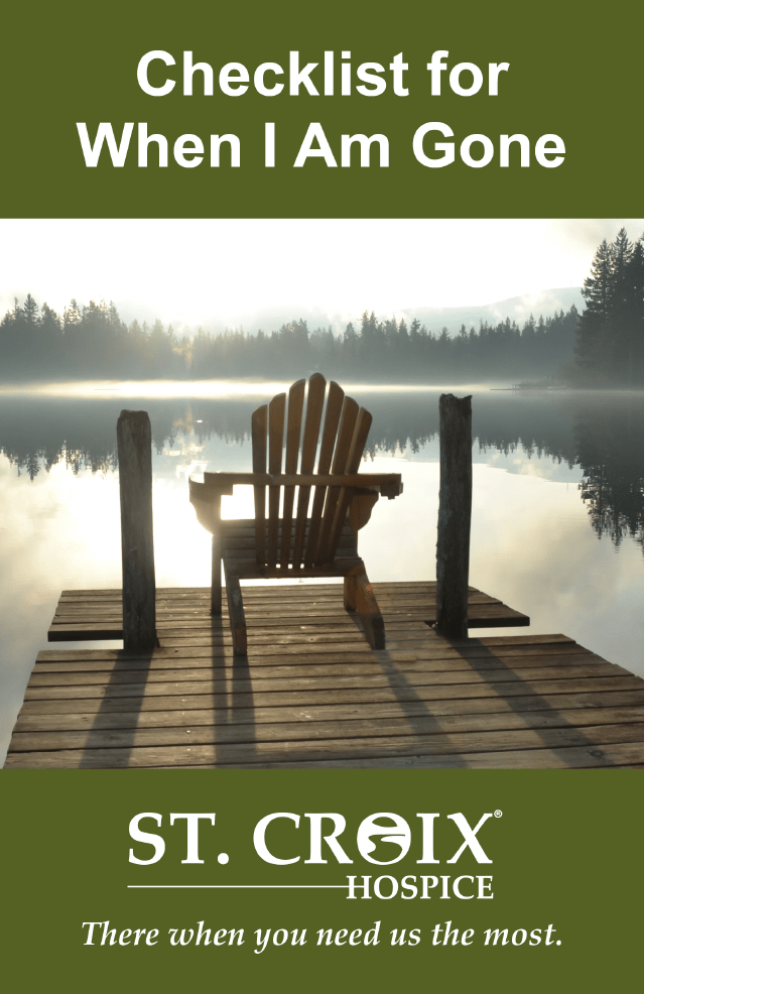 Workbook for When I Am Gone
An expanded version of the Checklist in a larger format, this Workbook includes space to record all of the important information needed after someone is gone.
Use the Workbook to provide contact info, account logins and more that your loved ones may need as part of their efforts to manage your post-life affairs. Go through this Workbook to record and check off all the information that you either already know or that does not pertain to you. Then, find and record any of the missing information you want to be sure to provide to the individual you have designated to handle your affairs when you are gone.
Sometimes it's hard to remember all of the important things someone else will need to know about us after we are no longer able to share it, and we hope this Workbook makes the process of gathering this information easier for you and those you love. Keep the Workbook in a secure location once they begin filling it out and carry the Checklist with them as a reminder for information they still need.
The Workbook for When I Am Gone provides:
Centralized information
Organization and accessibility
A simplified process
Peace of mind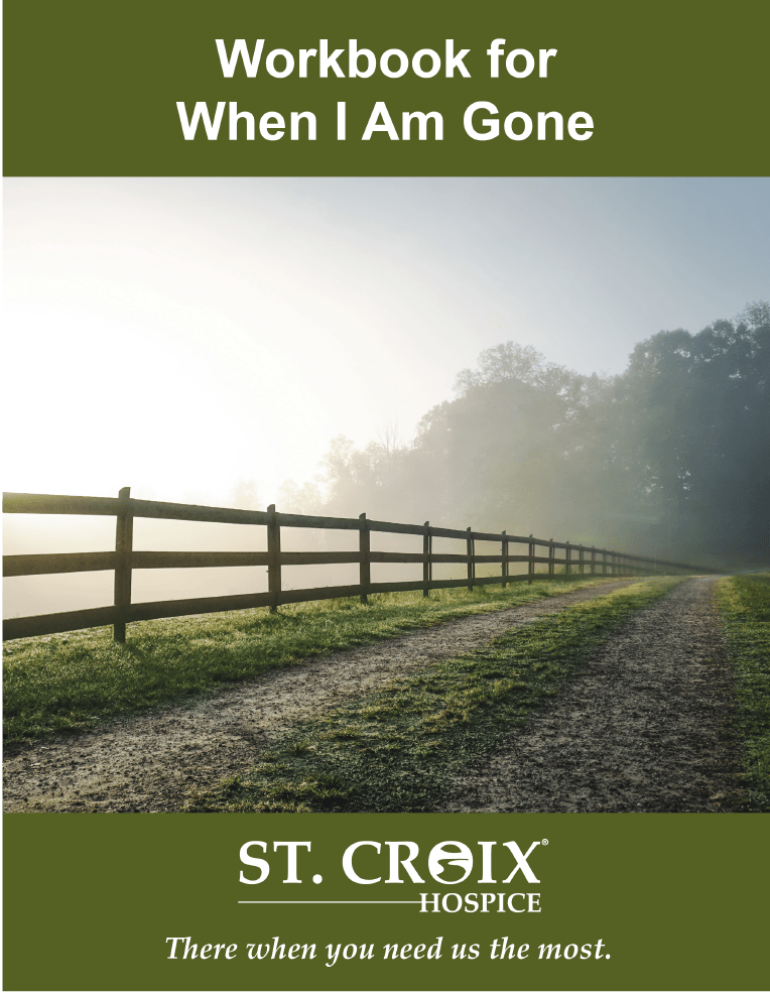 State-Specific Resources
Advance directives are legal documents that inform your care team and family members of your healthcare preferences. They are an important part of your Advance Care Plan at any age.
Because each U.S. state's advance directive laws are different, it's important to complete the correct forms for your state of residence. If you frequently travel between state lines, consider signing advance directive forms for all states where you may need care to ensure your advance care planning in your end-of-life journey is taken care of.
There When You Need Us Most
Our Lighthouse End-of-Life Planning Program is not just for hospice patients. Anyone over 18 will benefit from preparing the future. We are proud to share these complimentary tools to help you light the way for your loved ones.