St. Croix Hospice Expands Leadership Team with Strategic Hire and Promotions
[OAKDALE, MINN.] – Tuesday, March 7, 2023 – St. Croix Hospice is pleased to announce changes to the senior leadership team to support the continued growth of the organization.
Minnesota native Mark Marjala has joined the agency as Senior Vice President of Human Resources. A transformative leader, Mark brings 30 years' experience to St. Croix Hospice, most recently serving at a top national health services and innovation company. Mark's expertise in building culture and employee engagement will be a key component of his leadership at St. Croix Hospice, as well as his success in creating robust healthcare talent acquisition programs in a competitive hiring market.
"As someone who is passionate about the employee and consumer experience, I am incredibly honored to join St. Croix Hospice and work with the teams who are caring for individuals and families at one of the most critical times in their lives," says Mark. "I've experienced hospice firsthand with my father and know the impact care teams have on families. My head and heart are fully engaged in the St. Croix Hospice mission, and I look forward to seeing what we can do collectively for those who need it most."
St. Croix Hospice has promoted leader Eric Lewis to Chief Accounting Officer, expanding on his current responsibilities for financial reporting, policy development and implementation. Eric joined the organization in 2021 as Vice President and Controller, with a rich background in healthcare and finance which has served the agency well during two years of significant expansion.
The agency has also promoted Bronwyn Pope to Assistant Vice President of Marketing and Communications. Bronwyn joined St. Croix Hospice in 2018 and most recently served as Director of Marketing & Communications where she has used her extensive healthcare communications background to build the St. Croix Hospice brand through a variety of channels, including expanding its digital presence.
"We are pleased to be expanding the expertise on our leadership team as St. Croix Hospice continues to grow in response to the need for expert hospice care throughout the Midwest," says St. Croix Hospice CEO Heath Bartness. "Mark Marjala is a proven leader who we are excited to bring on board to support and grow the best hospice caregiving team in the industry. In addition, we have recognized the contributions that both Eric Lewis and Bronwyn Pope have made in support of the health and growth of St. Croix Hospice through their work to build and lead teams which will continue to be essential to the organization's success and planned growth.
About St. Croix Hospice
St. Croix Hospice serves nearly 4,000 patients daily within the Midwest. Taking an integrated approach to hospice care, the expert team at St. Croix Hospice provides physical, emotional and spiritual support that meets the unique needs of each patient and their families. St. Croix Hospice teams are stationed in more than 60 branches throughout 10 states, ensuring responsive, proximate service to wherever patients call home.
St. Croix Hospice supports patients, their families and caregivers when they need us the most, delivering exceptional hospice care 24 hours a day, 365 days a year. With branches in Illinois, Indiana, Iowa, Kansas, Michigan, Minnesota, Missouri, Nebraska, South Dakota and Wisconsin, St. Croix Hospice takes pride in round-the-clock availability, prompt response and same-day admissions – including during evenings, weekends and holidays. Contact St. Croix Hospice 24/7 at 855-278-2764 or stcroixhospice.com. 
Continue Reading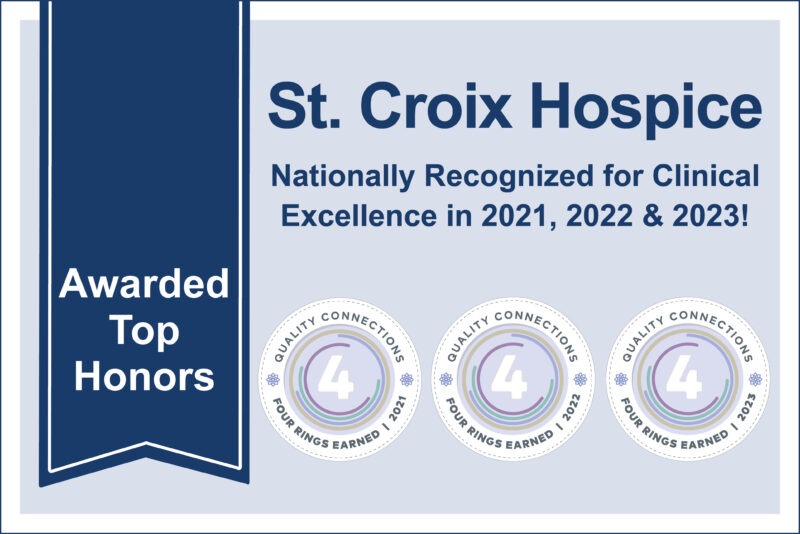 August 8, 2023
[OAKDALE, MINN.] Aug. 8, 2023 – St. Croix Hospice, a leading provider of end-of-life care, has been awarded...
Read More