St. Croix Hospice Recognized as One of Nation's Top-Performing Hospices for the Third Consecutive Year
[OAKDALE, MINN.] Aug. 8, 2023 – St. Croix Hospice, a leading provider of end-of-life care, has been awarded the prestigious Quality Connections four rings honor through the National Hospice and Palliative Care Organization (NHPCO) for the third consecutive year.
NHPCO's Quality Connections program is the only national program to recognize hospice and palliative care agencies for exceptional care and continuous quality improvement. St. Croix Hospice has received the four rings honor every year since the Quality Connections program began in 2021.
"Achieving four rings for the third year in a row is a remarkable accomplishment for St. Croix Hospice," said St. Croix Hospice Founder and CEO Heath Bartness. "The four rings recognition is a testament to the dedication of our staff and their tireless efforts to provide the very best care to our patients and their families. High quality care in hospice is imperative, because we only have one chance to give someone a positive end of life experience."
Hospice and palliative agencies that participate in the Quality Connections program are required to achieve milestones within the four areas (or "rings") of education, application, measurement and innovation.
"St. Croix Hospice is grateful to participate annually in NHPCO's Quality Connections program, and we take great pride in achieving the four rings recognition for another year," said Ashley Arnold, Vice President of Clinical Services for St. Croix Hospice. "The Quality Connections program is truly an incredible opportunity that fortifies our ability to be industry leaders in hospice care."
St. Croix Hospice's unyielding focus on enhancing patient experience, maintaining clinical excellence and ensuring compliance with regulatory standards have been crucial to securing this prestigious recognition. The agency's commitment to continuous improvement and its dedication to patients have set it apart as a leader in the field of end-of-life care.
St. Croix Hospice serves nearly 4,400 patients daily within the Midwest. Taking an integrated approach to hospice care, the expert team at St. Croix Hospice provides physical, emotional and spiritual support that meets the unique needs of each patient and their families. St. Croix Hospice teams are stationed in more than 60 branches throughout 10 states, ensuring responsive service to wherever patients call home at a time when they need it most. 
About St. Croix Hospice  
St. Croix Hospice supports patients, their families and caregivers throughout the Midwest, delivering exceptional hospice care 24 hours a day, 365 days a year and wherever a patient calls home. With branches in Illinois, Indiana, Iowa, Kansas, Michigan, Minnesota, Missouri, Nebraska, South Dakota and Wisconsin, St. Croix Hospice takes pride in round-the-clock availability, prompt response and same-day admissions – including during evenings, weekends and holidays. Contact St. Croix Hospice 24/7 at 855-278-2764 or stcroixhospice.com.  
Continue Reading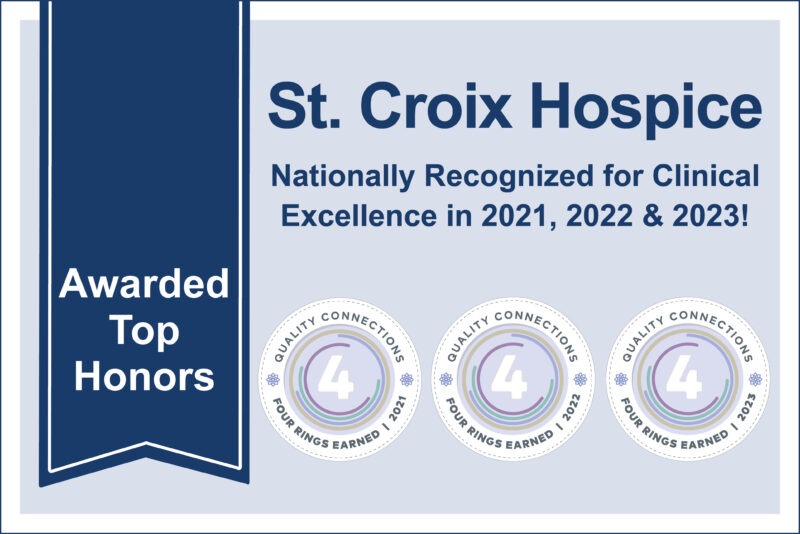 August 8, 2023
[OAKDALE, MINN.] Aug. 8, 2023 – St. Croix Hospice, a leading provider of end-of-life care, has been awarded...
Read More