St. Croix Hospice Keeps Families Together During COVID-19 Pandemic
Midwest Agency Launches InTouch Family Connection Program
[OAKDALE, MINN.] Dec. 1, 2020 – St. Croix Hospice, a Midwest leader in hospice care, announces its innovative new InTouch Family Connection Program. A first-of-its-kind initiative led by the agency's clinical teams, the program keeps hospice patients and loved ones in contact with one another, whether virtually or in person, during the ongoing COVID-19 pandemic.
"Pandemic restrictions are having a far-reaching impact on every aspect of our patients' lives, including their mental well-being," says Mandy Cogswell, St. Croix Hospice Chief Clinical Officer. With this program, our dedicated care teams use tools and technology to enhance emotional support for patients and families."
The St. Croix Hospice InTouch Family Connection Program is a unique answer to facility visitor restrictions, which are vital to continued safety but can take an emotional toll on hospice patients. Social isolation is also a concern for patients receiving care in private homes, with indoor family gatherings discouraged and extended families minimizing travel.
"Elements of the InTouch Family Connection Program include video chats, phone calls, and patient and family PPE for in-person visits," adds Cogswell. "St. Croix Hospice clinical teams work with families to assess communication barriers and facilitate opportunities for loved ones to be together."
The InTouch Family Connection Program is the latest in St. Croix Hospice's comprehensive response to the COVID-19 pandemic. The hospice agency has reacted quickly by implementing telehealth admissions and care, in-house staff COVID-19 testing, and its Safe+Care Promise infection prevention measures. As a result of these efforts, St. Croix Hospice has continued providing superior hospice services when patients and families need it most.
About St. Croix Hospice
St. Croix Hospice supports patients, their families and caregivers when they need us the most, delivering exceptional hospice care 24 hours a day, 365 days a year wherever a patient calls home. With branches in Iowa, Kansas, Minnesota, Missouri, Nebraska and Wisconsin, St. Croix Hospice takes pride in round-the-clock availability, prompt response and same day admissions, including evenings, weekends and holidays. Contact St. Croix Hospice 24/7 at 855-278-2764 or stcroixhospice.com.
Continue Reading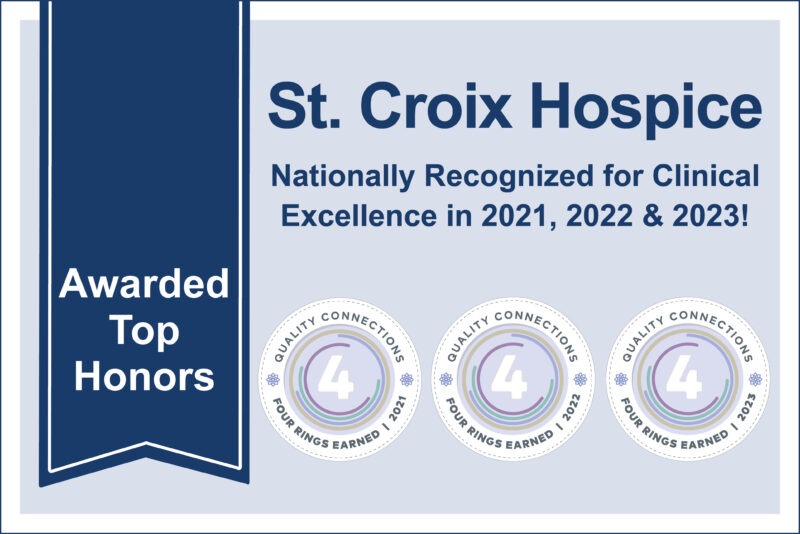 August 8, 2023
[OAKDALE, MINN.] Aug. 8, 2023 – St. Croix Hospice, a leading provider of end-of-life care, has been awarded...
Read More