St. Croix Hospice extends services in Iowa with addition of Humboldt branch
[HUMBOLDT, IA] May 8, 2020 – In response to growing need for hospice services in Midwest communities, St. Croix Hospice has opened a new branch in Humboldt, Iowa. The new location at 701 Sumner Ave. will serve patients in Calhoun, Hamilton, Hancock, Humboldt, Kossuth, Pocahontas, Palo Alto, Webster, Winnebago and Wright counties.
"Hospice utilization has not diminished during the COVID-19 pandemic; to the contrary we have seen a steady demand," says Dr. Andrew Mayo, Chief Medical Officer, St. Croix Hospice. "We continue to serve patients in private homes, assisted living and skilled nursing facilities while following the CDC's personal protective equipment guidelines for all patient care."
The Humboldt location enhances St. Croix Hospice's existing services in Iowa and improves access to hospice for patients in northern Iowa. The agency serves more than 75 percent of counties in the state. Staff provide direct care to all patients in need of hospice including those in rural and remote communities and are equipped with technology to admit and assess patients via telehealth when needed.
"The ability to provide care via telehealth is incredibly important during the COVID-19 outbreak," says Dr. Mayo. "We know the elderly and hospice patients are particularly at great risk from this virus, so our expert care teams are working hard with patients, their families and our partner residential facilities to provide hospice care while keeping people safe."
In addition to serving patients via telehealth if needed
d, St. Croix Hospice direct care staff are using videoconferencing technology to connect patients and loved ones who may be separated due to visitor restrictions at facilities. "We are seeing success using apps like Google Duo and Facetime to facilitate connections and combat the isolation that can result from social distancing," adds Dr. Mayo.
The St. Croix Hospice expert care model has demonstrated unique adaptability to the changes resulting from the COVID-19 pandemic. In addition to moving to telehealth for many admissions and appointments, staff are experienced using mobile devices, laptops and other technology to facilitate care wherever patients call home. Patient care has continued uninterrupted, with admissions and appointments available 24 hours a day, seven days a week.
About St. Croix Hospice
St. Croix Hospice supports patients, families and caregivers when they need us the most, delivering exceptional hospice care 24 hours a day, 365 days a year wherever a patient calls home. With branches in Iowa, Kansas, Minnesota, Missouri, Nebraska and Wisconsin, St. Croix Hospice takes pride in round-the-clock availability, prompt response and same day admissions, including evenings, weekends and holidays. Contact St. Croix Hospice 24/7 at 855-278-2764 or stcroixhospice.com.
Continue Reading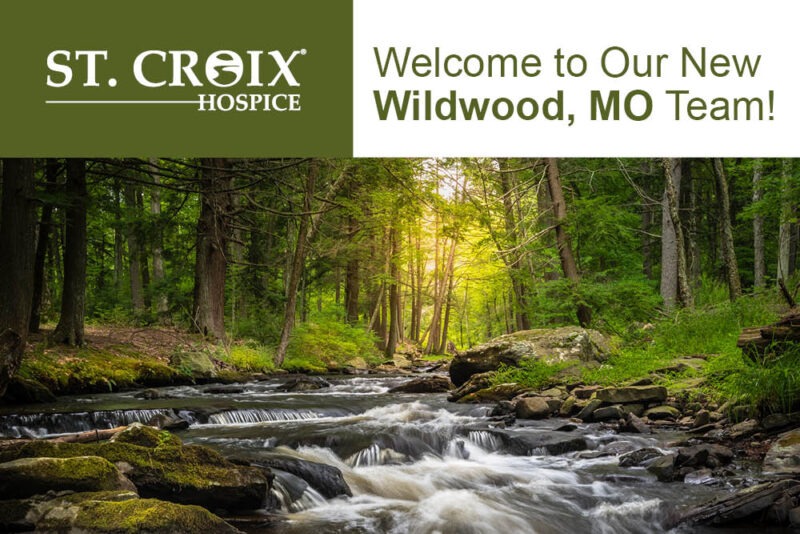 November 22, 2023
[WILDWOOD, MO] – Nov. 22, 2023 – St. Croix Hospice builds upon their existing end-of-life services in eastern...
Read More