St. Croix Hospice Chief Clinical Officer Mandy Cogswell Honored with 2023 Women in Business Award
[OAKDALE, MINN.] March 22, 2023 – St. Croix Hospice's Chief Clinical Officer (CCO) Mandy Cogswell, RN, CHPN, has been recognized by the Minneapolis/St. Paul Business Journal as one of the honorees for their 2023 Women in Business Award. Announced annually, this award recognizes industry-leading executives, entrepreneurs and business owners for their professional successes and community involvement.
"Since the opening of St. Croix Hospice in 2009, Mandy Cogswell has played an integral role in the organization's high quality clinical care—first as a hospice RN and now as Chief Clinical Officer," says St. Croix Hospice Founder and CEO Heath Bartness. "Her background working directly with patients has given her an unmatched perspective, making her highly effective in leading our clinical team and leading us to becoming one of the highest quality hospice programs in the country."
As Chief Clinical Officer, Mandy Cogswell has led countless efforts to expand and strengthen clinical services that best meet the needs of patients and families. In recent years, Mandy has overseen the launch of multiple unique and innovative specialty care programs including the North Star Dementia Program, Voyage Vigil Program, BridgeCare, Navigate: Falls Prevention Program, Safe+Care Promise and the InTouch Family Connection Program. Mandy has also led efforts at St. Croix Hospice to deploy MUSE, a machine learning software that supports clinicians' ability to predict and respond to patient needs.
"My career has always been driven by my commitment to patient-centered nursing, and my experience leading clinical operations for St. Croix Hospice continually fortifies the passion I have for my work," says Mandy. "It is a great honor to be one of this year's Women in Business and to be recognized for my work at the intersection of business and clinical care."
Taking an integrated approach to hospice care, the expert team at St. Croix Hospice provides physical, emotional and spiritual support that meets the unique needs of each patient and their family. St. Croix Hospice local care teams serve communities from more than 60 branches throughout 10 Midwestern states, ensuring responsive, proximate service to wherever patients call home.
About St. Croix Hospice 
St. Croix Hospice supports patients, their families and caregivers when they need us the most, delivering exceptional hospice care 24 hours a day, 365 days a year. With branches in Illinois, Indiana, Iowa, Kansas, Michigan, Minnesota, Missouri, Nebraska, South Dakota and Wisconsin, St. Croix Hospice takes pride in round-the-clock availability, prompt response and same-day admissions – including during evenings, weekends and holidays. Contact St. Croix Hospice 24/7 at 855-278-2764 or stcroixhospice.com. 
Continue Reading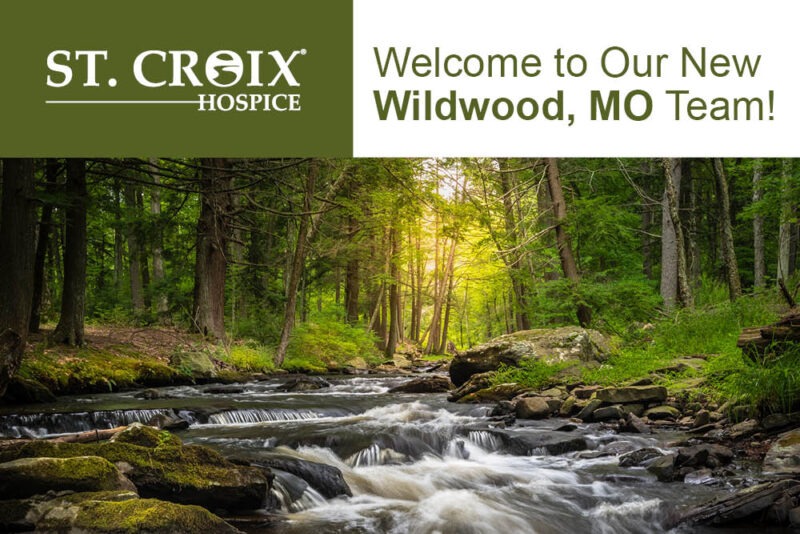 November 22, 2023
[WILDWOOD, MO] – Nov. 22, 2023 – St. Croix Hospice builds upon their existing end-of-life services in eastern...
Read More