Becker's Hospital Review Names St. Croix Hospice's Dr. Andrew Mayo One of 110 Chief Medical Officers to Know Nationwide
[OAKDALE, MINN.] March 1, 2023 – St. Croix Hospice's Chief Medical Officer (CMO) Dr. Andrew Mayo has been recognized by Becker's Hospital Review as one of 110 hospital and health system chief medical officers to know in 2023.
The Becker's Hospital Review list of "110 hospital and health system chief medical officers to know" is published annually and includes CMOs across the country who are leading their company with clinical excellence that prioritizes the needs of patients and communities. Of the 110 CMOs listed for 2023, Dr. Andrew Mayo is the only executive representing a hospice agency.
"A world class clinician and true hospice care expert, we are incredibly lucky to have Dr. Mayo on the leadership team here at St. Croix Hospice," said St. Croix Hospice Founder and CEO Heath Bartness. "What makes Dr. Mayo especially unique is that he is not only a chief officer of this company, and an incredible hospice physician, he is also a working leader who rolls up his sleeves every single day and gets things done at all levels."
As Chief Medical Officer, Dr. Andrew Mayo provides clinical direction for St. Croix Hospice, a nationally renowned, rapidly growing hospice organization that serves ten Midwest states and nearly 4,000 patients daily from more than 60 branches. A member of the family who started the Mayo Clinic based in Rochester, Minnesota, Dr. Mayo is guided by an intergenerational commitment to patient care.
"It is a great honor to continue my family's legacy through my work in hospice, an area of healthcare that consistently illuminates the miracles in life" said Dr. Andrew Mayo, CMO of St. Croix Hospice. "Through caring for people who are dying, we recognize what is truly important in living."
Taking an integrated approach to hospice care, the expert team at St. Croix Hospice provides physical, emotional and spiritual support that meets the unique needs of each patient and their families. St. Croix Hospice teams are stationed in more than 60 branches throughout 10 states, ensuring responsive, proximate service to wherever patients call home.
About St. Croix Hospice 
St. Croix Hospice supports patients, their families and caregivers when they need us the most, delivering exceptional hospice care 24 hours a day, 365 days a year. With branches in Illinois, Indiana, Iowa, Kansas, Michigan, Minnesota, Missouri, Nebraska, South Dakota and Wisconsin, St. Croix Hospice takes pride in round-the-clock availability, prompt response and same-day admissions – including during evenings, weekends and holidays. Contact St. Croix Hospice 24/7 at 855-278-2764 or stcroixhospice.com.  
Continue Reading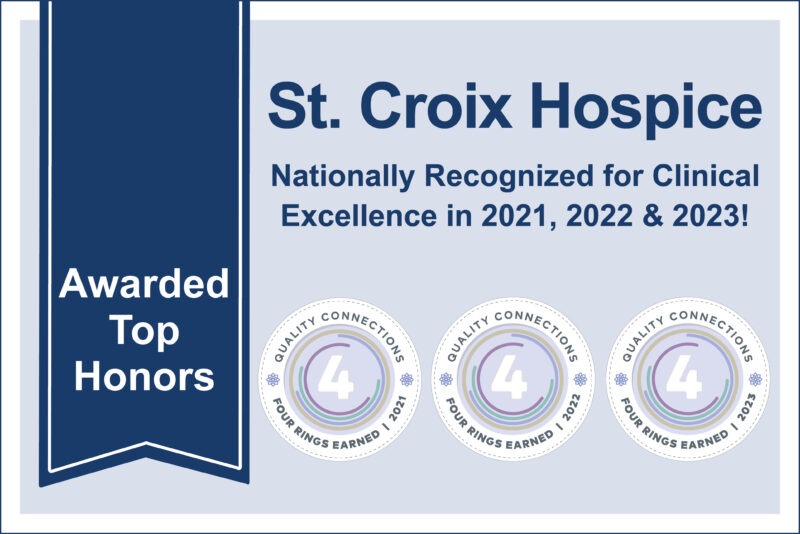 August 8, 2023
[OAKDALE, MINN.] Aug. 8, 2023 – St. Croix Hospice, a leading provider of end-of-life care, has been awarded...
Read More