St. Croix Hospice well positioned to respond to COVID-19 challenges, continuing to care for patients wherever they call home
[OAKDALE, MINN.] April 1, 2020 – As the COVID-19 outbreak continues to affect the U.S. healthcare and hospice industries, St. Croix Hospice remains open and prepared to continue to care for patients in all settings including hospitals, residential care facilities and private homes.
In addition to providing uninterrupted care to current patients, the Midwest agency continues to accept new patient referrals 24 hours a day, 7 days a week. Clinical caregivers are following federal, state and partner facility guidelines to prevent infection and protect hospice patients, who are uniquely vulnerable to COVID-19 symptoms, as well as clinical staff in the field.
"Our employees have always been extraordinarily dedicated to the St. Croix Hospice mission and their response to the COVID-19 pandemic is no exception," says Dr. Andrew Mayo, St. Croix Hospice's Chief Medical Officer. "They have displayed remarkable resolve to care for hospice patients and their families throughout this pandemic."
St. Croix Hospice staff are working together to meet patient needs and maintain operations in a healthcare environment that is changing daily and can differ from one state or county to the next. "Beyond caring for our current patients and taking new patient referrals," continued Mayo, "our teams are collaborating across the agency to secure and distribute medical supplies, keep patients and families connected via technology to ease loneliness and anxiety, shift staff to areas of greatest need, and find creative ways to support not only our own front-line staff but the facilities we partner with."
The strong internal culture of caring at St. Croix Hospice immediately came into play as non-essential staff looked for creative ways to support the nurses and aides in the field. "Our non-essential staff have been shopping, providing meals, delivering supplies and even caring for the children of our nurses and aides," Mayo continued. "These teams have also been delivering food and supplies to the staff at facilities where our patients live and collaborating with those partners to address needs as they arise."
Because St. Croix Hospice cares for patients wherever they live, the agency was well positioned with significant technology resources already in place to respond to this crisis. Typically, staff across the agency primarily operate remotely with laptops, phones and tablets allowing them to work from home or in the field. Additionally, the agency's first-of-its-kind predictive modeling tool integrates with information from clinical teams to more accurately anticipate patient needs which improves the allocation of staffing resources. And, St. Croix Hospice has used teleconferencing across the agency for many years, so staff were already well versed in this essential remote operating tool which many employers are just now implementing.
Internally, St. Croix Hospice has been supporting staff with a 24/7 COVID-19 Response Team headed by HR, a daily COVID-19 email update to all staff and daily podcasts providing additional staff tools and support. Many non-essential staff members have also cross trained to support departments whose workflow has increased during the outbreak, such as Intake and Patient Experience. Staff members across the agency with clinical experience who were serving in other capacities are also now training and renewing licenses to prepare to go back into clinical roles in the field if needed.
In a show of solidarity with healthcare partners, St. Croix Hospice employees are working with nonhealthcare businesses in their local communities to secure personal protective equipment (PPE) including masks, gowns and gloves for those facing supply shortages. Branch locations are available to serve as drop-off sites and a full listing of Midwest locations is available at stcroixhospice.com/service-area.
About St. Croix Hospice
St. Croix Hospice supports patients, families and caregivers when they need us the most, delivering exceptional hospice care 24 hours a day, 365 days a year wherever a patient calls home. With branches in Iowa, Kansas, Minnesota, Missouri, Nebraska and Wisconsin, St. Croix Hospice takes pride in round-the-clock availability, prompt response and same day admissions, including evenings, weekends and holidays. Contact St. Croix Hospice 24/7 at 855-278-2764 or stcroixhospice.com.
Continue Reading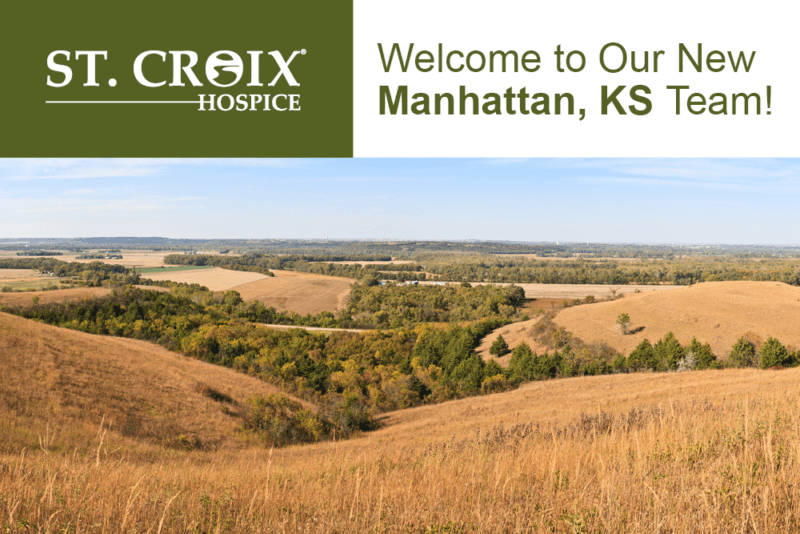 April 25, 2023
Additional location bolsters St. Croix Hospice's ability to deliver care in northeast Kansas [MANHATTAN, KS] – Wednesday, April...
Read More