St. Croix Hospice Opens New Office in Green Bay, WI
Expansion in Wisconsin strengthens St. Croix Hospice's ability to care for the large number of patients and families seeking exceptional end-of-life services in Green Bay
[Green Bay, WI] – Thursday, April 20, 2023 – St. Croix Hospice continues their growth in the Midwest with a new branch in Green Bay, WI, building on the agency's longstanding, consistent presence as a trusted high-quality hospice provider in the state. This new location marks the fifteenth St. Croix Hospice branch in Wisconsin, coming shortly after the opening of their most recent Wisconsin location in Chippewa Falls.
"Our continued growth in the state of Wisconsin is in response to the consistent need for hospice care throughout a state where a quarter of the population is projected to be age 65 and older by 2040," says St. Croix Hospice Statewide Executive Director Rick Risler. "The need for excellent healthcare agencies to care for and support the aging population will continue to rise, and St. Croix Hospice will be there in communities like Green Bay to meet that need now and in the future."
St. Croix Hospice is committed to expanding access to the hospice benefit throughout the Midwest, while also raising awareness of the benefits hospice can bring to patients and family members who have appropriate local access to excellent care.
St. Croix Hospice has been steadily increasing their presence within the Wisconsin service area, providing expert care for 12,000+ patients since 2011. With the addition of the Green Bay location, St. Croix Hospice now has more than 200 Wisconsin caregivers serving over 65 counties.
St. Croix Hospice serves nearly 4,000 patients daily within the Midwest. Taking an integrated approach to hospice care, the expert team at St. Croix Hospice provides physical, emotional and spiritual support that meets the unique needs of each patient and their families. St. Croix Hospice teams are stationed in more than 60 branches throughout 10 states, ensuring responsive, proximate service to wherever patients call home.
About St. Croix Hospice
St. Croix Hospice supports patients, their families and caregivers when they need us the most, delivering exceptional hospice care 24 hours a day, 365 days a year and wherever a patient calls home. With branches in Illinois, Indiana, Iowa, Kansas, Michigan, Minnesota, Missouri, Nebraska, South Dakota and Wisconsin, St. Croix Hospice takes pride in round-the-clock availability, prompt response and same-day admissions – including during evenings, weekends and holidays. Contact St. Croix Hospice 24/7 at 855-278-2764 or stcroixhospice.com.
Continue Reading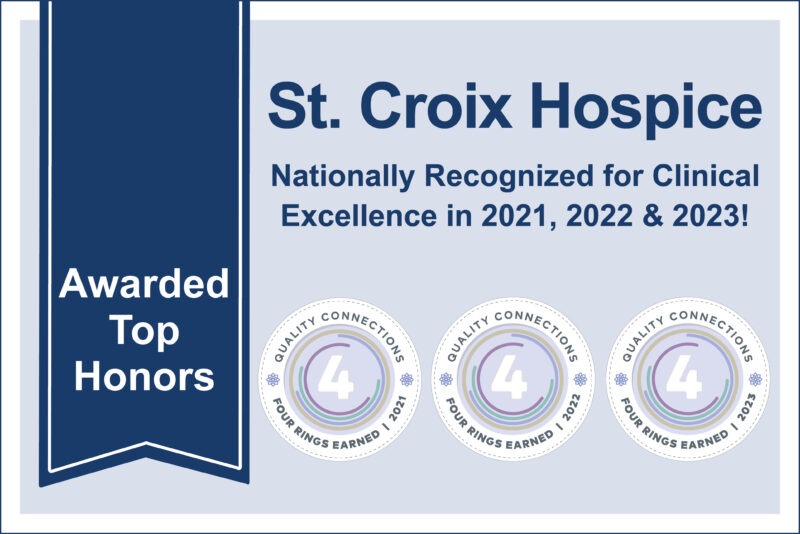 August 8, 2023
[OAKDALE, MINN.] Aug. 8, 2023 – St. Croix Hospice, a leading provider of end-of-life care, has been awarded...
Read More