St. Croix Hospice Opens New Branch in Manhattan, KS
Additional location bolsters St. Croix Hospice's ability to deliver care in northeast Kansas
[MANHATTAN, KS] – Wednesday, April 26, 2023 – St. Croix Hospice expands end-of-life services with the opening of a new branch in Manhattan, KS. This location marks the fourth St. Croix Hospice branch in Kansas and will allow hospice caregivers to serve additional patients and families within the region.
"Approximately one out of every two patients who are eligible for hospice are not electing the benefit. This is true nationwide and also within our Manhattan service region" says St. Croix Hospice Founder and CEO Heath Bartness. "Our new Manhattan branch will headquarter more local staff within the communities they are already serving, allowing us to increase access and convenience to hospice care where there is great need."
According to Centers for Medicare & Medicaid Services statistics for October 2021 through September 2022, the most recent period for which data is available, nearly 50% of eligible patients in the Manhattan branch's service area did not take advantage of the hospice benefit. With the addition of the Manhattan, KS location, St. Croix Hospice is able to enhance their level of care in communities they've been serving since 2015.
"We have an incredible team of local, dedicated caregivers who will continue to provide compassionate, patient-focused care in Kansas," says Regional Director of Clinical Operations Theresa Wyle-Hunsberger. "The new Manhattan location puts our team closer to their work and helps them have more time for one-on-one patient care."
St. Croix Hospice serves over 4,100 patients within the Midwest. Taking an integrated approach to hospice care, the expert team at St. Croix Hospice provides physical, emotional and spiritual support that meets the unique needs of each patient. St. Croix Hospice teams are stationed in over 60 branches throughout 10 states, ensuring responsive, proximate service to wherever patients call home.
About St. Croix Hospice
St. Croix Hospice supports patients, their families and caregivers when they need us the most, delivering exceptional hospice care 24 hours a day, 365 days a year and wherever a patient calls home. With branches in Illinois, Indiana, Iowa, Kansas, Michigan, Minnesota, Missouri, Nebraska, South Dakota and Wisconsin, St. Croix Hospice takes pride in round-the-clock availability, prompt response and same-day admissions – including during evenings, weekends and holidays. Contact St. Croix Hospice 24/7 at 855-278-2764 or stcroixhospice.com.
Continue Reading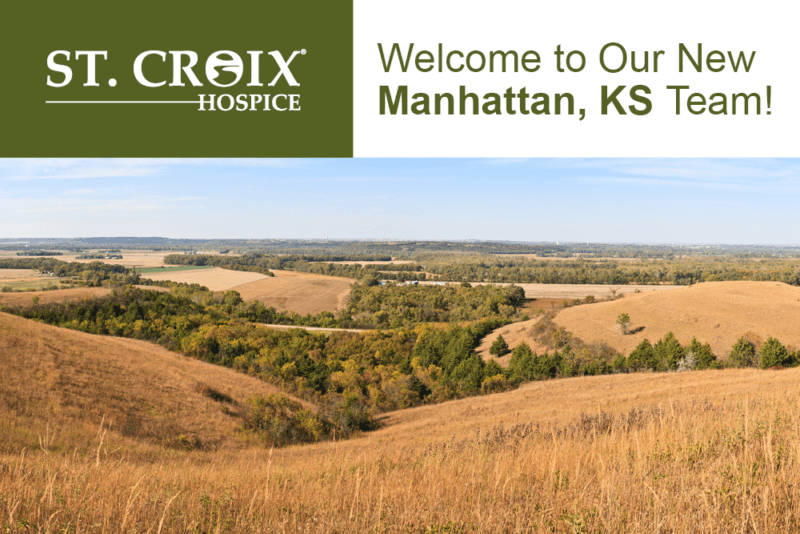 April 25, 2023
Additional location bolsters St. Croix Hospice's ability to deliver care in northeast Kansas [MANHATTAN, KS] – Wednesday, April...
Read More