St. Croix Hospice expands care in western Wisconsin with addition of La Crosse branch
[LA CROSSE, WIS.] March 16, 2020 – As utilization of hospice services continues to increase in Wisconsin and nationwide, St. Croix Hospice has opened a branch in La Crosse. The new location will serve patients in Jackson, La Crosse, Monroe, Trempealeau and Vernon counties.
"Our La Crosse branch complements our coverage of the region currently served by our established branches in Eau Claire, Baraboo and Platteville, allowing clinical staff to reach patients more quickly," says Sarah Roseth, St. Croix Hospice Regional Director of Clinical Operations. "Now more than ever, we can be there when western Wisconsin patients and families need us the most."
With recent media coverage highlighting the burden placed on family caregivers when loved ones choose to die at home, St. Croix Hospice is leading the industry in efforts to provide support resources. The Midwest-based agency recently launched predictive modeling technology that coordinates with clinical team assessments to more accurately predict when patients are approaching their final days of life.
Predictive modeling technology builds upon St. Croix Hospice's Voyage Vigil Program, which strives to increase provider bedside presence at the end of life. "The Voyage Vigil Program ensures patients receive maximum comfort and companionship at the end of life," adds Roseth. "The clinical team's presence in those important final days gives patients and families the support they deserve."
Often thought of as exclusively for people facing life-limiting conditions, many hospice services can also benefit family members. Registered nurses, for instance, can navigate end-of-life questions and concerns. Volunteers offer companionship and bereavement counselors provide support to families for up to 13 months after a patient's death. Hospice aides are available seven days/week to assist with daily cares or give loved ones a needed respite.
About St. Croix Hospice
St. Croix Hospice supports patients, families and caregivers when they need us the most, delivering exceptional hospice care 24 hours a day, 365 days a year wherever a patient calls home. With branches in Iowa, Kansas, Minnesota, Missouri, Nebraska and Wisconsin, St. Croix Hospice takes pride in round-the-clock availability, prompt response and same day admissions, including evenings, weekends and holidays. Contact St. Croix Hospice 24/7 at 855-278-2764 or stcroixhospice.com.
Continue Reading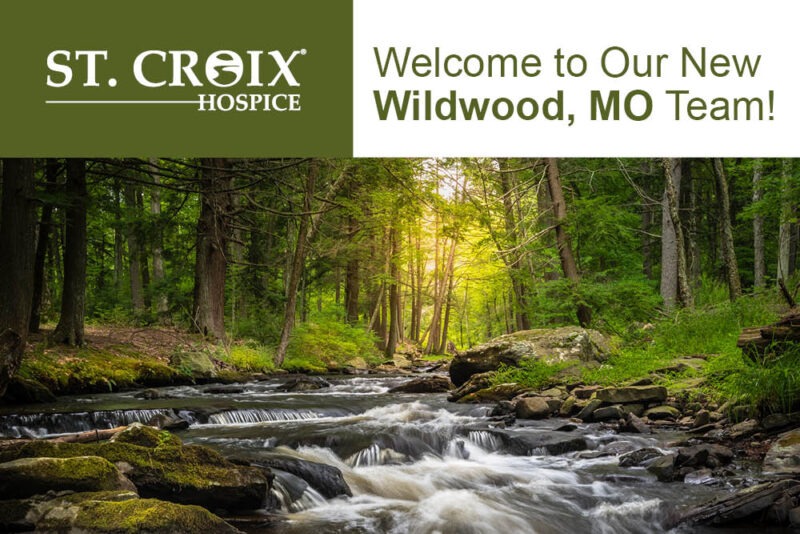 November 22, 2023
[WILDWOOD, MO] – Nov. 22, 2023 – St. Croix Hospice builds upon their existing end-of-life services in eastern...
Read More