St. Croix Hospice Adds Certified Wound Care Specialists with Innovative End-of-Life Wound Care Program
[OAKDALE, MINN.] Oct. 23, 2023 – While continuing to provide unmatched clinical care at the bedside of each patient, St. Croix Hospice is elevating wound care treatment with the addition of board-certified wound and ostomy clinicians as part of the agency's new Wound Care Specialty Program. St. Croix Hospice's eight specialty care programs are designed to provide a higher level of support for patients, family caregivers and facilities by layering additional expertise on top of traditional hospice care.
"The Wound Care Specialty Program builds upon the existing high-quality wound care that St. Croix Hospice has long provided to patients," said Chief Clinical Officer Mandy Cogswell. "As patients approach the end of their life, they may become more at risk of developing chronic wounds, and we recognize the great benefit in making sure all patients have access to board-certified wound experts. This program goes above and beyond what is typically offered through end-of-life care and fortifies St. Croix Hospice's commitment to being the very best we can be for our patients."
It is not uncommon for chronic wounds to develop or worsen toward the end of life. These wounds can include tumors, lesions and ulcers related to existing diseases such as diabetes, cancer or other illnesses. Other chronic wounds may not be directly related to disease but are instead pressure wounds resulting from immobility. St. Croix Hospice clinical teams identify and treat these wounds on a daily basis. With the launch of the agency's Wound Care Specialty Program, the on-site clinical team is now additionally able to tap into the expertise of board-certified wound care and ostomy clinicians to ensure the best course of treatment and improved quality of life for each patient.
"Chronic wound care is all about managing pain and addressing symptoms," said Cogswell. "The Wound Care Specialty Program sets St. Croix Hospice apart by providing access to clinicians who specialize in wound care in addition to the traditional hospice care team. The program ensures that patients experience the very best comfort and quality of life, which is what hospice care is all about."
Wound care can be significant for not only patients, but also for facilities and family caregivers. As part of the Wound Care Specialty Program, the board-certified wound care clinicians are available to provide unmatched wound care planning, treatment and documentation, ultimately providing relief for both patients and caregivers.
Taking an integrated approach to hospice care, the expert team at St. Croix Hospice provides clinical, physical, emotional and spiritual support to more than 4,400 patients daily. St. Croix Hospice local clinical teams care for their communities from more than 60 branches throughout 10 Midwestern states, ensuring responsive, proximate service and individualized care wherever patients call home.
About St. Croix Hospice
St. Croix Hospice supports patients, their families and caregivers when they need us the most, delivering exceptional hospice care 24 hours a day, 365 days a year.
With branches in Illinois, Indiana, Iowa, Kansas, Michigan, Minnesota, Missouri, Nebraska, South Dakota and Wisconsin, St. Croix Hospice takes pride in round-the-clock availability, prompt response and same-day admissions – including during evenings, weekends and holidays. Contact St. Croix Hospice 24/7 at 855-278-2764 or stcroixhospice.com.
Continue Reading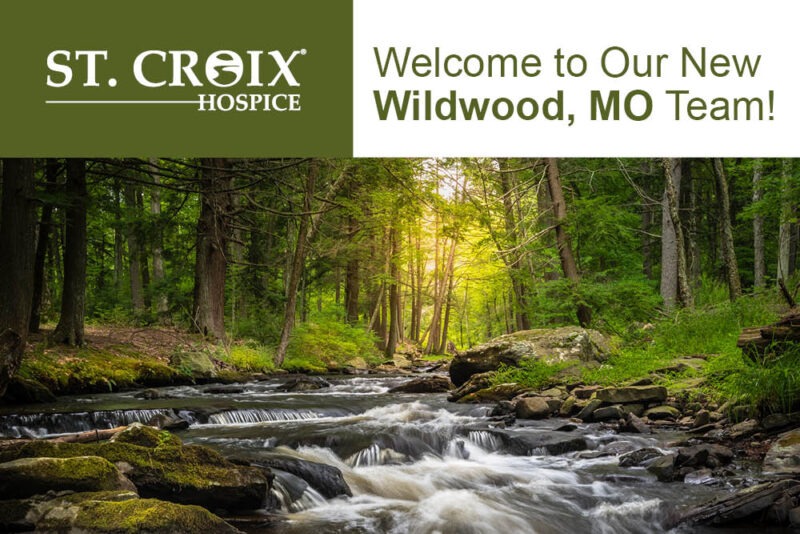 November 22, 2023
[WILDWOOD, MO] – Nov. 22, 2023 – St. Croix Hospice builds upon their existing end-of-life services in eastern...
Read More