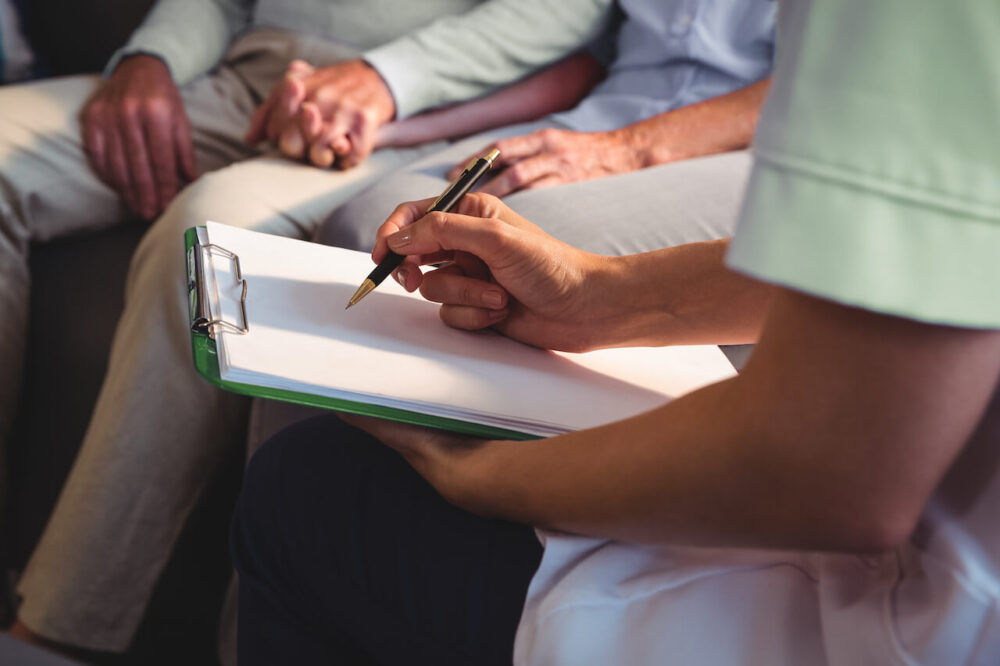 Understanding the Hospice Admission Process
Understanding the hospice admission process can help patients and families make informed decisions about their care. If you are considering hospice care for your loved one, they may already be eligible. Understanding the steps before hospice admission and what the process involves can help prepare you and your loved one to quickly receive the care they need.
A Few Steps Before Hospice Admission
Referral
Anyone can make a hospice referral to St. Croix Hospice for a complimentary hospice consultation. When you choose St. Croix Hospice you'll receive the education, resources and support you need, right from the start.
Consultation/Family Meeting
A representative from St. Croix Hospice will be in touch with the family to gather important information and answer any questions they may have regarding the services provided by St. Croix Hospice.
Eligibility
A patient's eligibility must be confirmed by our clinical care team who review medical records while determining a life expectancy of six months or less. When a patient is found eligible during the assessment the hospice benefit details are explained. The patient and family can then determine if they want to move forward.
Evaluation
A patient must be evaluated to determine a care plan. Our RN Case Manager will meet with you and your loved one for a virtual or in-person assessment. They will gather information such as recent health declines and concerning symptoms, share information about the benefits of hospice and answer any further questions.
Advance Care Planning
If a patient does not already have advance care plans in place, they will be encouraged to complete one as soon as possible. Advance Care Planning means making important decisions about the medical care you want to receive if you are unable to speak for yourself, and a loved one is making decisions for you.
How To Prepare for a Hospice Admission
It can be helpful to have the following information and items ready for the clinical staff at your admission:
Any insurance cards and Medicare/Medicaid information
A copy of the patient's advance directives such as healthcare proxy or Do Not Resuscitate Order (DNR)
A current medication list
A list of any current medical equipment from a supplier
Any other information you would like your hospice care team to know
What Does the Hospice Admission Process Involve?
Hospice admission includes a thorough evaluation to determine eligibility based on the primary diagnosis. The evaluation discussion may include:
Criteria for admission depending on the primary diagnosis
Clinical physical assessment
Review of current medications
Discussion of pain and symptom management
Options for medical equipment
Overview of care team and visit schedule
Gathering and completing admission paperwork including healthcare proxy and DNR forms
A review of hospice coverage
During the hospice admission, a personalized care plan will be created. Information will be shared about our care team, automated call system, chaplain and social worker assessment and 24-hour nurse follow-up. This is also a great time to ask any additional questions.
The admission process includes a lot of information, but St. Croix Hospice is available 24/7 to answer additional questions and provide support for families. Our team can provide education, tools, resources, emotional and spiritual support so patients and their loved ones can focus on spending quality time with your loved one.
Q&A: Hospice Admission Demystified and Clarified
How often will the hospice care team have scheduled visits with my loved one?
The number of visits is based on the patient's needs and their plan of care. One patient may have a registered nurse visit once a week, while another patient may have visits seven days a week, depending on each patient's specific needs.
What happens in case of a medical emergency while my loved one is on hospice?
Once a patient is admitted to hospice, hospice replaces 9-1-1. St. Croix Hospice has 24/7 triage and on-call nurses available to prevent unnecessary hospitalization or ER visits and ensure a patient's wishes are followed.
How much does a hospice evaluation cost?
There is no cost associated with having a hospice evaluation and insurance is not billed. If someone is found not eligible at the time of the evaluation, St. Croix Hospice will continue to monitor them should they have any declines to ensure they get care once they're eligible.
Can hospice care replace in-home caregiving?
While hospice does not provide in-home 24/7 care, hospice does provide care in the home, and many find the clinical discipline visits meet their needs. Hospice care will also work with a number of 24/7 in-home agencies to supplement care as needed.
Can I be admitted to hospice if I am hospitalized?
Hospice care is unable to admit you if they are already hospitalized for your current diagnoses. However, if you find yourself frequently visiting the Emergency Department, you may be hospice eligible. Hospice care can be provided anywhere a patient calls home, including skilled nursing facilities, assisted living facilities and private residences.