St. Croix Hospice Opens New Branch in Newton, IA
[Newton, IA] – Tuesday, April 18, 2023 – St. Croix Hospice continues their growth in the Midwest with a new branch in Newton, IA. This location marks the fourteenth St. Croix Hospice branch in Iowa and will help local hospice caregivers be better positioned to care for patients living in the rural counties around this Central Iowa community.
"Healthcare providers have been closing their doors across rural America, and Iowa is no exception. With fewer facilities and agencies to care for our aging population at the end of life it is critical that agencies like ours step up to fill those gaps when we can," says St. Croix Hospice Statewide Executive Director Kim Kirschbaum. "St. Croix Hospice has been serving these Iowa communities for many years, but by positioning a new branch location in Newton we have shortened the response time by our clinicians which in turn improves access for patients and their families who need hospice care."
Hospice care continues to be underutilized throughout the country, and St. Croix Hospice is committed to expanding access to the hospice benefit for those who want it, by providing local care teams where they are needed the most. In Iowa St. Croix Hospice care for patients and families in 83 primarily rural counties where patients often have limited access to local health care.
St. Croix Hospice serves nearly 4,000 patients daily within the Midwest. Taking an integrated approach to hospice care, the expert team at St. Croix Hospice provides physical, emotional and spiritual support that meets the unique needs of each patient and their families. St. Croix Hospice teams are stationed in more than 60 branches throughout 10 states, ensuring responsive, proximate service to wherever patients call home.
About St. Croix Hospice
St. Croix Hospice supports patients, their families and caregivers when they need us the most, delivering exceptional hospice care 24 hours a day, 365 days a year and wherever a patient calls home. With branches in Illinois, Indiana, Iowa, Kansas, Michigan, Minnesota, Missouri, Nebraska, South Dakota and Wisconsin, St. Croix Hospice takes pride in round-the-clock availability, prompt response and same-day admissions – including during evenings, weekends and holidays. Contact St. Croix Hospice 24/7 at 855-278-2764 or stcroixhospice.com.
Continue Reading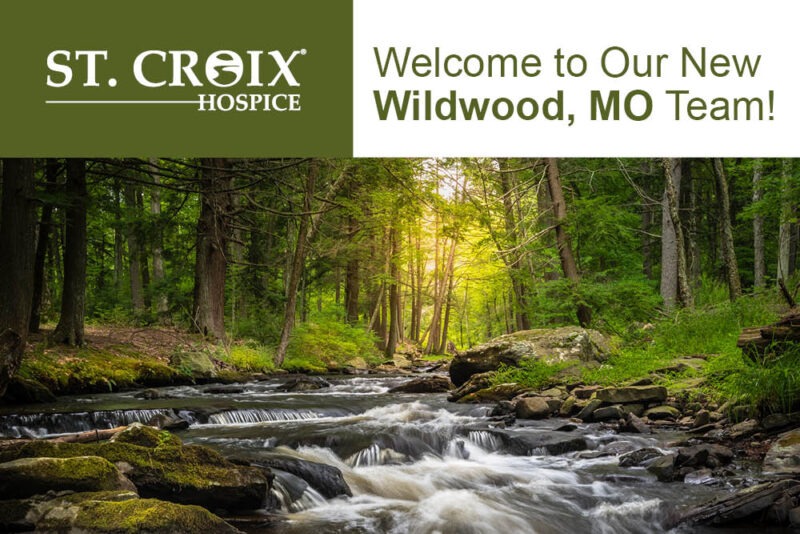 November 22, 2023
[WILDWOOD, MO] – Nov. 22, 2023 – St. Croix Hospice builds upon their existing end-of-life services in eastern...
Read More